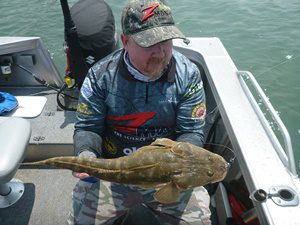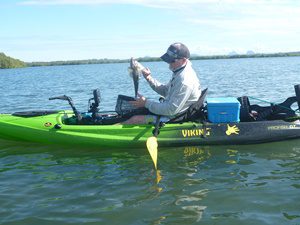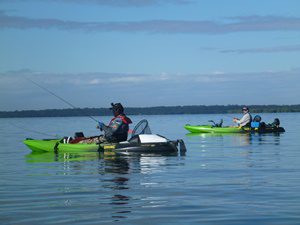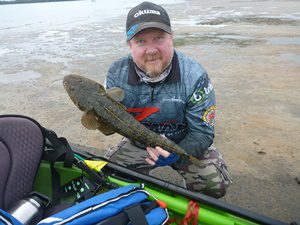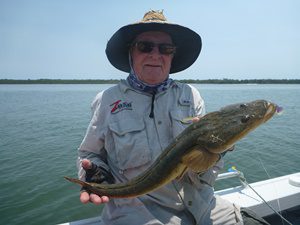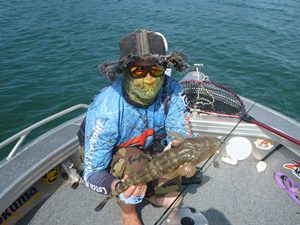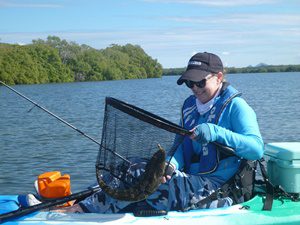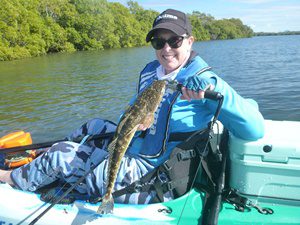 A FAVOURITE target species for many anglers, including myself, is the humble flathead. They love eating lures, fight well on light gear, are readily available, make great table fish for those wanting to keep a couple for a feed, and everyone is in the running to catch a trophy fish, whether fishing land based or from watercraft.
Winter is a great time to target flathead because the creeks, rivers and estuaries fill with bait, the weather patterns stabilise and the water clears to assist us in hunting fish and the fish in seeing our lure presentations. I also find that where I fish, the flathead get really angry, maybe due to the cooler and clearer water, which sees them aggressively attacking lures, tracking and attacking them right at the kayak and boat and when they are hooked, fighting hard!
Here's a few tips and techniques that work for me when targeting flathead in winter.
Clear water
With the water often clearing in many areas in winter, thanks to more stable weather conditions and westerly breezes, I find myself fishing more natural colours in my soft plastics, such as Baby Bass, Opening Night and Bad Shad. These colours are more transparent than many of the darker, more solid silhouette colours I fish when the water is dirty, giving them a more realistic baitfish profile. I generally team these with unpainted jig heads, or jig heads painted in natural colours to match the plastics. winter flathead 
With the light penetrating deeper in this clearer water, my deep-water plastics and jig heads also change a little, with 3/8oz, 3/0 jig heads changing from Black with a glow eye to Chartreuse, and my plastics changing from dark silhouette colours to UV-reactive colours such as Motor Oil, Midnight Oil and Purple Death to make the most of both the UV reactive qualities of the plastic and the additional light penetrating deeper in the water column. In the shallows, the fish seem to become very aggressive, feeding actively, travelling further to eat the lure and more often inhaling the lure at speed close to the boat or kayak. This is probably partly due to the water clarity allowing them to spot the presentation from further away, while simultaneously creating a need for them to be fast and aggressive as they are more visible to the prey they are aiming to ambush. The influx of bait into the system also seems to fire up the bite.
The dud tides
The neap tides seem to fish slower in winter, when there is little difference between low and high tide. This is due to little tidal run. As the saying goes, "no run, no fun", and this often rings true. To overcome these less-productive tides, I change my technique and where I fish. If I'm fishing fast and covering ground on the flats and drop-offs and the fish aren't firing, I'll slow things down and focus on more specific structure that will hold fish. winter flathead
The gear will change to the Ned Rig, consisting of a 1/10oz or 1/6oz TT Lures NedlockZ jig head and Z-Man 2.5" TRD CrawZ or 2.75" TRD BugZ. This presentation relies on the mushroom-shaped jig head and buoyant soft plastic to create a rapid stand-up presentation that imitates a crustacean fleeing and then defending itself. For some reason, when the bite is slow and the fish just don't want to eat, they can't resist the Ned Rig. The bite changes from nil or the occasional subtle tap to a full-blown clunk of a strike and an inhaled plastic.
The trick when fishing the Ned Rig is to narrow the search area because you are generally fishing slower and more focused, with a hopping or shaking retrieve and plenty of pauses. Rather than rapidly drifting the flat or working the edge, I will look for the key structure in the area along with areas that have been productive in previous sessions. Key structure includes drains that hold a metre or so of water throughout the tide, mangrove edges, weed edges on the drop-offs of flats, rubbly sand patches in large weed flats, pressure points and eddies impacted even by the smaller tides and small weed and rubble flats that hold at least half a metre of water throughout the tide. winter flathead 
I often fish a 7', 3-6kg rod, 30 size reel, 10lb braid and 10lb leader when fishing my heavier, deeper edge-bite plastics on 3/8oz jig heads. However, to get a long cast out of the Ned Rig, I switch to a 7', 1-3kg or 2-4kg rod, 20 size reel, 6lb braid and 10lb leader. Note the leader remains 10lb because I have had flathead to 80cm inhale this little snack size presentation. This lighter combo allows long casts, subtle hops and shakes that make the plastics come to life. It is more fun when dealing with Ned Rig-eating by-catch such as bream and grunter, and is more forgiving on the leader should a flathead inhale the bite-size presentation.
Match the hatch
Remember to keep an eye out for bait flicking and moving in the area as, in winter especially, the bait size can vary dramatically form tiny 'eyes' to larger species such as yellowtail pike. At times this can influence the behaviour of the feeding fish and a hot bite may come on a tiny 2.5" plastic or 5" plastic, while on the other hand the fish may not even look at the larger or smaller presentations you are throwing. I generally carry curl tails and paddle tails in the 2.5"-4" size range, along with my mix of crustacean-style Ned Rig baits and can usually work out a feeding pattern for the session with a few changes. winter flathead 
I will generally start by throwing a 2.5" Slim SwimZ on a 1/4oz 1/0 TT Lures jig head when fishing the flats and shallower areas under 2m, or a 3" MinnowZ on a 1/4oz 3/0 jig head when fishing deeper edges and drains. If the area looks good, there's bait movement, it feels like I should be getting fish and it's not happening, I'll switch things up every 15-30 minutes until I crack a pattern. Having multiple rods rigged makes this process simpler and I will often have a smaller plastic, larger plastic and Ned Rig setup rigged to try to work out what they want.
If you find a colour that works well for you in your area or when the water is a particular colour, it can pay to look at what other models come in that colour. For example, the clear, fleck-filled Opening Night colour is often in my winter kit in 2.5", 3" and 4" paddle tails along with 4" curl tails, as it is a proven clear water colour. winter flathead 
Up the creek
With less rain in winter, I also find flathead often tend to push further up the creeks than in summer, when more frequent rainfall pushes fresh water and fish out of the creeks and into the larger rivers and bays. It's not just flathead though, as you will also find a mixed bag of estuary and even reef and pelagic species further up the creeks, depending on the amount of rain that has fallen. This is a good option to keep in mind, especially if the wind is blowing, because these sheltered creeks and back waters provide a good mix of species and their winding series of bends and straights means there are generally plenty of places to get out of the wind. winter flathead
Key structure to focus on includes drains, rocks, deeper holes, timber snags and undercut mangrove edges. Flathead, along with most other species, will stick tight to this structure, especially if the structure is holding bait. In really snaggy sections, the addition of a TT Lures SnakelockZ weedless jig head will reduce lure losses and allow you to make that cast right in among the snags.
Flathead are fun fish to target, love eating lures and a trophy fish could be landed on your next cast. Set the alarm and get the warm gear on because winter is a perfect time to target them.
See you on the water…