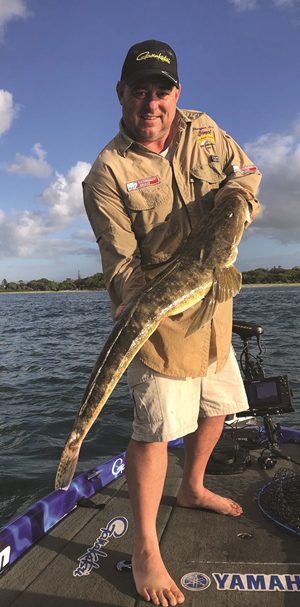 HELLO all and welcome to this month's edition of BNB and the Ballina fishing update.
Over 600mm of rain was deposited in the Northern Rivers area and plenty found its way into the Richmond River. The discoloured water pushed out to sea for a couple of kilometres during the flood, but it has since cleaned up significantly, which will improve the Ballina fishing.
Recently, we had our first reports of mackerel on the close reefs, however since then wind and swell have made it nearly impossible to spend any serious amount of time on the water. Good numbers of mackerel have been found at Brunswick Heads and Coffs Harbour for those who can't wait for fish to show up locally. The fishing should be fairly productive in close around Ballina, with the water temperature hovering about 25C and a reasonable amount of live bait available.
If you don't want to play in the crowds chasing mackerel, mahi mahi (dolphinfish) will be hanging around the fish-aggregating devices. Live bait will be the best option, so make sure you take the time to collect a few before heading out wide. The larger dolphinfish have been showing plenty of interest in skirted lures being trolled and it will pay to pack a couple for your next trip. Natural blue-coloured and luminous lures have been good choices over the past couple of months.
The current has slowed, with reports of one to three knots on most days. For the most part, the slower current is fishable and could mean snapper, teraglin jew and flathead coming from the 32-fathom line. If this is the case, soft plastics, slow-pitch jigs and octopus jigs will all be worth trying. We should also see pearl perch, amberjack and kingfish on the 48-fathom line.
Make sure to visit your local tackle shop before your next trip and check out the new lure available from Mustad. It's an octopus imitation called InkVader and, for an artificial lure, it's super realistic, right down to the dissolvable ink tablets to insert into the body to simulate ink squirting. Made of a super-tough material, this lure should stand up to a heavy beating from offshore fish. They are available in a range of colours, various sizes and eight different weights to suit many target species and any depth.
As for fishing back on the beaches and around rock platforms near Ballina, chopper tailor have begun to appear. Most anglers have enjoyed catching a feed on metal spinners as well as the usual bait such as pilchards and mullet.
Quality bream and flathead have started to appear around the rocky areas at each end of the beach. Natural-coloured soft plastics have worked quite well, as have worms, white pilchards and pipis.
Bream and tailor numbers should continue to improve over the coming months as we draw closer to winter. The pick of beaches are Angels, Seven Mile and South Ballina, with nice gutters discovered on a couple of the other beaches, proving it pays to try a few spots because fish move around.
We are seeing clear water push back into the river during run-in tides. This has brought in good-quality bream from the beach, and they are happy to grab prawns, mullet and squid as well as natural-coloured soft plastics. Flathead have a similar appetite, with better-quality fish taken around the porpoise wall and the deeper sections behind the CBD. Larger soft plastics and vibes have worked quite well, as have live and cut bait such as mullet and bonito.
With the bigger tides recently, mud crab numbers have improved considerably. They've shown up in North Creek above Prospect Bridge, in Emigrant Creek around the highway bridges and in the main river from the ferry to Wardell Bridge. The deeper channels have produced, and I would say it's due to more salt water sitting beneath the fresh.
For spring and summer Ballina fishing tips, click here!
Well, that's all from me.
'Til next time – tight lines!