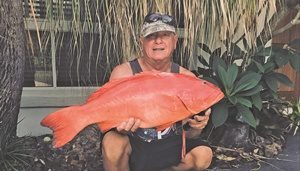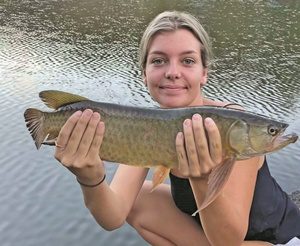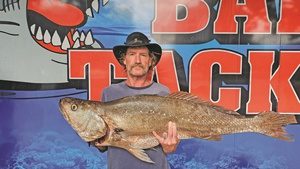 WITH March shaping up to be a cracker, it is this time of year we tend to see solid weather patterns come through. On the plus side, the school holidays are a distant memory and the swell keeps most of the smaller craft inside the river, making for quieter conditions offshore.
Inshore selection
The best fishing will be had over the next few months when conditions allow, with spanish mackerel in good numbers, and spotted mackerel and good longtail coming through. We can expect to see wahoo, queenfish, mahi mahi and fat coral trout from the inshore reefs. By now most offshore anglers will have bagged a big spaniard from the great fish that turned up late January and into February.
If you are yet to score, the bigger fish including wahoo and an occasional large longtail are taking slow-trolled dead bait species. Small mack tuna, pike, garfish, slimy mackerel and saury all make excellent troll bait. Come in and take a look at the great range of gear for rigging the perfect bait, including nose cones, wire, skirts and solid rings.Inshore selection
If trolling lures is your thing then Samaki Redic and Halco Laser Pro lures are very popular and come in a wide range of enticing colours. With mackerel often sitting deep, particularly after rain, owners of downriggers will do very well because you can send any lure or bait as deep as you want. Come in and ask us how these work if you aren't getting the bite but know the fish are there.
Spotted mackerel are being taken on a trusty metal slug in the 25-40g size, with Halco Twisty and Gillies Baitfish lures being the pick. High speed retrieves are key to catching mackerel or tuna, as is swapping the hooks for a quality inline single jigging hook such as a Mustad Kaiju. Doing this leads to the faster and safer unhooking of fish, not to mention a stronger hook-up.Inshore selection
Lastly, if you are losing lures then come and ask us how to tie a haywire twist with single strand wire. This twist requires no tools and is certainly the best way to hang on to your lures for longer during a hot bite. Halls Reef and Jew Shoal play host to a mixed bag of reef fish with species including snapper, sweetlip, coral trout, cod, cobia and tuskfish.
Most fish take live bait species such as pilchard, squid and fresh mullet strips. Quality coral trout are bitting well on Sunshine Reef with live yellowtail scad and big pilchard being the better bait options. Don't forget to keep your bait hard on the bottom when chasing trout, and lock that drag down and hold on. Another technique worth trying on reef fish is slow jigging.Inshore selection
Slow-fall jigs such as a Samaki Ribcage fluttering to the bottom have been responsible for many a big fish. Be sure to swap out the stock hooks to a pair of Decoy Middle Pike Twin Assist in a 3/0 size to ensure the best hook-up. Come in and check out the range of rods from Oceans Legacy, particularly the element range which are well balanced and designed for slow-pitch jigging.
In the Noosa River, bream and whiting have been on the chew at the river mouth, the dog beach and Frying Pan areas. Live bait species such as worms and yabbies have been the winners, so break out your yabby pump. Using a basic running sinker rig with a Mustad Size 4 Bloodworm Long Shank hook and a 6lb fluorocarbon leader is the way to target bigger fish. This rig also allows you to cover a lot of ground and search for fish in the current.Inshore selection
When big easterly swells hit, bait fish get pushed into the estuary. This means bigger fish such as flathead around the 80cm mark can be caught along the drop-offs of the mouth. If unable to throw a cast net, ask us how so you can get a few mullet, which big fish love. Soft plastics like the Zerek Absolute Shrimp and the smaller Chasebaits Flick Prawn will get the job done for lure anglers working the drop-offs.
During a first light high tide, Woods Bay will have trevally and tailor busting up baitfish. Trolling hard-body lures such as Zerek Tango Shad and Atomic Hardz Shiner works well, as does casting surface lures in the 70-90mm size range. Live bait on a run-out tide at the back of Noosa Sound works well on mangrove jack, so be sure you're running at least a 30lb leader and have the gear to turn a fish of such power. If you're heading upriver, try the Tewantin ski run where school jewfish are often found.Inshore selection
These can be tempted with soft vibes including Samaki Vibelicious Thumper Tail and Zerek Fish Trap lures. When the swell drops the beaches around Noosa fish well for smaller dart, bream and whiting. Mudjimba Beach towards Peregian has a lot of good gutters after last month's swells and hold dart, bream and whiting plus the occasional tailor, with bigger fish taken at dusk and night on live worm and whole pilchard. At night, jewfish often cruise the high water around Yaroomba, Point Arkwright and Noosa headland.
Fishing the last half of a run-in tide tends to be the more popular time for capturing these bigger fish. Fresh mullet, mack tuna strip and live beachworms are best for jewies, and fresh is always best. When using worms for jew fishing, make sure the hook is an extra strong 1/0 or 2/0 Tru Turn forged worm hook and is heavily baited. If using slab bait, be sure to use bait thread to avoid losing it to small fish. This also helps streamline the bait for casting greater distances.
Freshwater started to fire up again after the school holidays passed. Borumba Dam and Lake MacDonald are stocked with bass, as well as yellowbelly and cod. Be sure to throw surface lures early morning during low light and be sure to cast under overhanging branches and bushes for saratoga lying in wait. Spinnerbaits and soft plastics cast tightly against structure will help pull those off their snag.
For the deeper schooled up bass, Hot Bite Gang Banger spoons, soft vibes, blades and spinnerbaits will get you into the action, with a slow and steady retrieve. Make sure you have your stock impoundment permit before fishing these areas and always remove any weed hanging off trailers and propellers before you leave.Inshore selection
Now for all the latest information log onto fishingnoosa.com.au for up-to-date bar and fishing reports, don't forget to drop into Davo's Tackle World, Davo's Boating and Outdoor in Noosa and Davo's Northshore Bait & Tackle at Marcoola for all the right equipment, bait and advice to get you catching. Be sure to follow us on Facebook, and remember tight lines and bent spines!