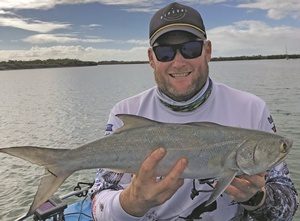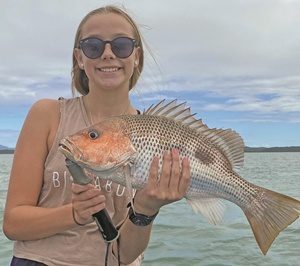 BY the time this publication hits there should be a chill in the air as we move well into autumn fishing in Gladstone. The change of weather means the fish species we target will slowly change from barramundi and mangrove jack to blue threadfin salmon and grunter. If we're lucky enough, we'll still be able to actively catch all species until the weather really starts to cool down.
Autumn fishing Gladstone
Even though threadfin salmon can be caught year-round, they will start to school in larger numbers as they get ready to spawn. I have found good schools moving through the anabranch and deeper sections of the Calliope River. They have been in these areas for a while now and will move through in schools and the numbers in these schools will increase as we move into cooler weather.
Trolling deep divers through the schools will often result in multiple hook-ups, alternatively a soft plastic or vibe jigged around the schools will also entice a hook-up. Otherwise fishing with live bait over a flat on an incoming tide will see schools of salmon moving up to feed. I find either a live mullet or garfish to be the best bait, but if you are struggling for time or it's hard to find, a pillie with its strong oily smell will get their attention.Autumn fishing Gladstone
Fingermark have been around in acceptable numbers and any bridge pylon or rocky drop-off that extends into deeper water will be a good place to start. Both the Calliope and Boyne rivers have bridges that are in deep water, as well as deep water filled with rocks – great for cover. The harbour is a more consistent area to target fingermark, with numerous headlands dropping off into deeper water. You can still pick up fish around shallow fallen timber and rock bars, but consistent fish will come from deeper locations.Autumn fishing Gladstone
The best lures to use for chasing fingermark are soft plastics between 100-125mm such as Berkley Gulp Shrimp rigged on either a 3/8 or 1/2oz jig head, depending on depth and current. A soft vibe such as a Zerek Fish Trap or Samaki Vibelicious will also work because they resemble a herring – one of fingermark's favourite food. When fishing with bait, a live herring or mullet will not be left untouched for long if they're around. Grunter are another fish that will start to school in good numbers and spots with broken rocks or gravel banks are the best places to start looking.
They can be a hard fish to actively target with lures, but a small blade or prawn imitation soft plastic worked over these types of areas can be effective. Fresh bait is the best way to catch good numbers of grunter – a butterflied herring or good cut bait works best. It will be time to break out the bream gear as soon as they school, and while this fish doesn't usually get much of a thought, they can be great fun to catch on light gear. Considering you target them in the same areas as mangrove jack but only use gear a third of the size, when you hook a good bream you need to work hard to keep them out of structure.Autumn fishing Gladstone
My preferred way is to throw small hard-bodies around fallen timber or mangrove roots and work them slowly out. A small plastic or Prawnstar Shrimp is another good way to tempt a few fish and if you've never actively targeted bream on lure before, it can be quite a buzz. Flathead will also be around in numbers. I've found Lilley's Beach to be the most consistent spot around here to catch a few. Their size will not be big, with most fish between 45-55cm, though at this size they're perfect for keeping a few for a feed.Autumn fishing Gladstone
Barramundi will still be around – they won't be too active, but you'll find them still feeding, though their bite time will be shorter. This is where live bait will out fish lures, a livey in the face will encourage them to hit it, even if they're not hungry. Mangrove jack will slow right down with the cool weather – they'll still be around, but you'll need to throw more casts into the same spots to get a bite. Tarpon are moving though the systems, and this is due to the large bait schools of herring that are around at the moment.Autumn fishing Gladstone
A good sounder will show up the bait schools and tarpon will usually be around these. As we move into cooler seasons, the weather should be more fisher-friendly, allowing us to spend more time on the water and hopefully catching more fish.
Cheers and happy fishing from Gladstone.