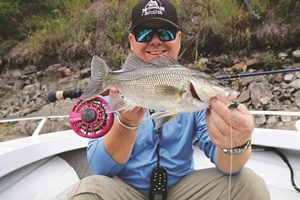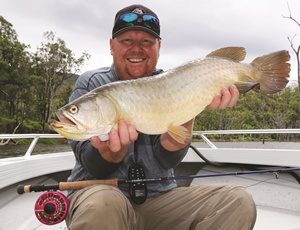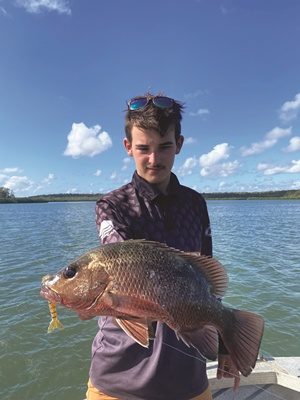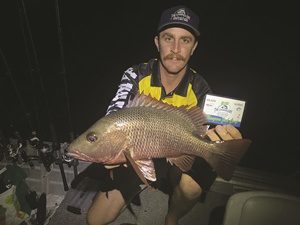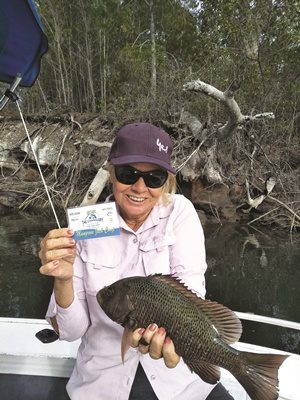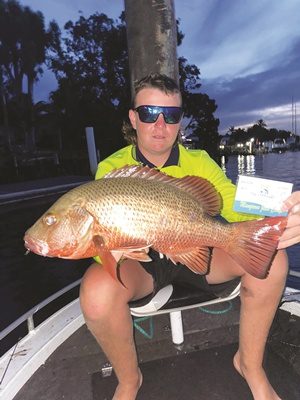 G'DAY crew, hope you are all well and have been able to get out and enjoying our beautiful Tin Can Bay over the holiday period. So how has 2021 been treating you all, full of bent rods and fresh fish I hope? We have been flat out at the shop the past few weeks – our feet have barely had time to touch the ground, let alone have lunch on the odd day – so not the February we're used to. Plenty of tourists wetting a line and loads of regulars have been keeping us super busy.
Tin Can jack 
Now, on to the fishing that's been happening lately.  With hot days and balmy nights, mangrove jack are one of the main targets for many fishos around Tinny. That said, the most productive time to target red dog for most is at night and for the past couple of weeks that has definitely rung true.
Fresh mullet fillet fished into the snags on a 4/0-6/0 suicide hook and lightly weighted lead has proven a sure-fire winner. Or try fishing deeper holes in the creeks at low tide using the same setup and don't disregard the good old pillie either.Tin Can jack 
For the lure fishos, the standout hard-bodies have been Samaki Redic DS80 and MS60, and Lucky Craft Pointer 78DD and 78XD lures, and yes they are all stocked up at The Chandlery Bait and Tackle, ready to go in to battle. The ever faithful 4.5'' Molix RT Shad remains a favourite for the anglers skip casting deep into the shadows. Zerek Live Shrimp and Zerek Live Cherabin have also been holding their own for a soft plastic prawn imitation. Tin Can jack 
When it comes to chasing snag dwellers such as mangrove jack and barramundi you need to be knocking on the back door, not the letter box. If you aren't getting your lure deep into the cover, you are simply wasting 99 percent of your time. This is not always so at night because jack are happier to come off structure to hunt, as they have the cover of darkness on their side.
This can be a good thing when tossing lures at night because no one wants to take the gelcoat off of someone else's boat or get hung up on a pontoon! At the time of writing, our 2021 Catch and Release Mangrove Jack Fishing Competition was well underway. We had 84 dedicated anglers fishing the two-month long comp, which started on January 2 and ended on the February 28.Tin Can jack 
Stay tuned for the results of this one, if the statistics are anything similar to last year, it will come down to the wire. So, there have been a good selection of fish around lately. Queenfish over 1m have been around in good numbers near Inskip Point, the bar and past the bluff recently. Mixed in with them have been nice sized giant trevally.
Working poppers and large slugs around pressure points should see you get a bit of explosive action with these hard-fighting sportsfish. Alternatively, unweighted live bait have been producing the goods. Offshore has seen great catches of reef fish, with trout, grass sweetlip, snapper and red emperor all being reported by charter crews and recreational fishos.Tin Can jack 
Spanish mackerel were in good numbers for those chasing a feed and all reports have been offshore so far, with no one mentioning catches inside the bar. Trolled skirted garfish are going to work best. On that note, we have been busy tying up our pre-made skirted gar rigs for the shop – so pop in, grab a couple and a bit of fresh gar if you're heading out.
If you want to try to make your own, we are more than happy to show you how we make them up. From what we have been hearing, crabs seem to be playing hard to get over the past few weeks. A good downpour should help that situation out. But what has been playing the game is squid! Yes, squid in the bay in summer – it's happening and it's happening now! Tin Can jack
My wife and I landed a dozen good models the other day on a run-out tide and we weren't even targeting squid. Small micro jigs worked for us.  Turned out this wasn't a one off… after telling a bunch of customers they all came back with reports of catching good numbers of squid in the same spots. One of the young fishos even managed to bag 47 in a couple of hours on the turn of the tide. Food for thought and the table!
The past couple of days off, I've been hitting the local dam chasing a few saratoga on the fly. It was a nice change exploring Borumba Dam. I'm definitely not an expert on dam fishing but it was fun learning a few things in the process. I managed to snag a 68cm toga and a couple of bass on the first trip – great fun on a 5-6wt rod.Tin Can jack 
For the next couple of trips, I didn't score a saratoga but I did manage a couple more bass.  I'm not breaking any catch records but as I said it was a nice change and the clean up after fishing in freshwater is a quick one. Anyway, that's is for now crew, hope to see you on the water or in the shop sometime. The Chandlery Bait and Tackle for all your boating and fishing needs. Tin Can jack 
Cheers and tight lines.