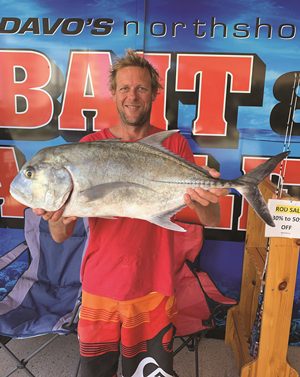 WITH winter behind us, water temperature is increasing and the species list on offer is improving. Estuaries will see packs of whiting and bream during the day, with flathead one of the biggest targets and there are huge models out there. Offshore we can expect to find large jewfish, trout, cobia, pearl perch and even early pelagic action. In dams the saratoga will be pairing up and breeding, making bass and yellowbelly a great alternative target.
warm noosa fishing
Offshore
Double Island, Barwon Banks and beyond will carry pearl perch, snapper, jewfish, cobia, goldband snapper, parrotfish, red emperor and a few hefty amberjack from deeper water. With snapper firmly back on the menu, bulky fish are still about and 5-7" soft plastics on 5/0-7/0 hook size jig heads are most effective. Make sure you have jig heads up to 2oz for stronger currents and be sure to pack a couple of high-speed jigs – the Samaki Hummer V2 is a perfect jig when upgraded with a Decoy DJ-500 Grand Pike Single Assist 5/0.
For those looking to stay in close, North Reef features pearl perch, tuskfish, snapper, cobia and jewfish. Running the sounder in zoom mode will help you find small lumps that often hold larger fish. Sunshine Reef, Halls Reef and other inshore reefs heading north will often hold coral trout, pearlies and sweetlip as well as cobia, snapper and maybe a pelagic tuna or mackerel.
Slow drifting and casting soft plastics or smaller jigs in the 40-60g range is a great way to discover new ground and find schools of snapper, sweetlip and pearlies. Be sure to break out a 20lb outfit if you have one, and if you're looking for a lighter jigging setup, take a look at Storm Gomoku rods, especially the Vanuatu.warm noosa fishing
Surf
Medium-sized dart and tailor continue to hang around Noosa North Shore gutters and south to Peregian and Marcoola. Pilchards, bonito strip, fresh mullet with gang or snelled 3/0-4/0 hooks are a popular choice. Snelling hooks is an important skill to know for bait presentation. Be sure to ask us how if you need help.
Don't forget a short length of bait wrap to keep bait in place when powerful casting is required. The Noosa and Maroochy River mouths have held a mix of quality bream, trevally, flathead and whiting. Big baits work well in these areas for larger species such as flathead, and light lines, beachworm, pea sinkers and whippy surf rods keep it fun when fishing for smaller bream and whiting during the day.warm noosa fishing
River
The upper reaches of the Noosa River between the lakes is a great place to locate mangrove jack. To get the best results, try casting deep into snags with baitcast gear on 20lb lines like Suffix 832 for the best abrasion resistance. Weedless paddle tail plastics like the Keitech Swing Impact Fat 3.8" on Owner Weighted Beast hooks work very well during the burn.
Mangrove jack will crunch and run for cover super quickly, so be sure drags are set high and you're on your 'A' game. Trolling hard-bodies over various rock bars will work well and may even pick up smaller jewfish. Lucky Craft Pointer and Jackall Squirrel lures in various gold and red colours are standouts.warm noosa fishing
Downstream towards the mouth of Lake Cooroibah and into the ski run, jewfish have been taken on various plastics and soft vibes. Plastics in the 3"range such as the Shimano Squidgy Prawn addle tail in Bloodworm with plenty of scent works well. This is also a great place to find decent flathead, which are partial to live baits as well as slow trolled hard-bodies – think Zerek Tango Shad and Samaki Redic – in this area.
If the water is dirty, you can step up to 16lb and 20lb for jack fishing. Also, around the ski run small giant trevally, bigeye trevally and little queenfish can be found. These fish love smaller 2-3" prawn-style plastics, with the Zerek Live Shrimp and the Atomic Prong converting. If you're fishing around the lower estuary, surface fishing for trevally on first and last light is a must.warm noosa fishing
Lighter leaders provide the best action and 70mm stickbaits are best for these areas. Be sure to have a Bassday Sugapen, MMD Splash Prawn or Lucky Craft Gunfish ready to flick. If you are going to be running fluorocarbon leaders, keep to 400-600mm in length because they tend to sink the lure, especially during slower walk-the-dog style retrieves.
Freshwater
Bass are becoming increasingly active, with fish taking lures off the top. Lilies that died off during the drought are back and fish are sitting under these because they trap the heat. If you want a great surface lure try the Chasebaits Bobbin Frog, which is super soft and hooks up easily. For those flicking the edges with hard-bodies, the Jackall Squirrel and Nories Laydown Minnow are two favourites.warm noosa fishing
Use leaders up to 12lb when you're deep in the snags as the bite is more reaction-based than working a lure along the bottom. Z-Man Curly TailZ plastics have also been working well, with tough Entice grubs claiming good-sized bass – especially when used as a trailer bait on spinnerbaits for yellowbelly. Another lure that continues to provide is the Hot Bite Gang Banger and is a staple in many a bass angler's kit.
Finally, as October is often accompanied by the bigger swell, be sure to watch for set waves when crossing the Noosa River Bar. If the swell is from the southeast, a big sneaker set often comes through, so it pays to sit and wait on bumpy days. Don't forget to check flairs and EPIRB expiry dates to ensure you're compliant at all times.warm noosa fishing
For all the latest information log onto fishingnoosa.com.au for up-to-date bar and fishing reports, and don't forget to drop into Davo's Tackle World, Davo's Boating and Outdoors in Noosa and Davo's Northshore Bait & Tackle in Marcoola for all the right equipment, bait and advice to get you catching.
Be sure to follow us on Facebook and remember, tight lines and bent spines!