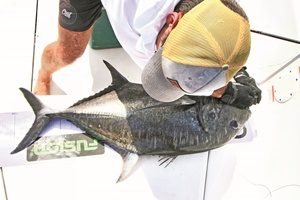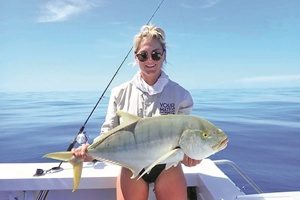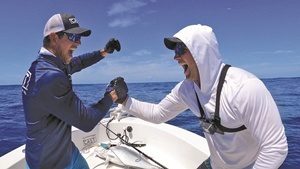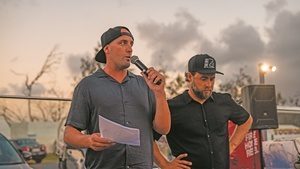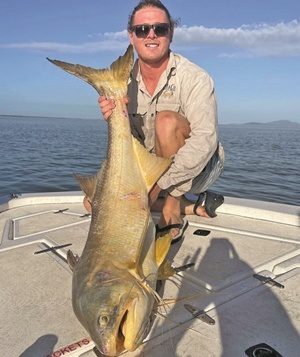 AT the beginning of February, the second Shimano King of Kings tournament was held. I'm pleased to report that it was a raging success and a lot of fun was had. The biggest kicker to the competition was that they managed to jag the weather. Yes, perfect conditions to fish were welcomed with opened arms from all 96 teams that registered.
Shimano King of Kings
The beauty about the King of Kings is that there are so many different species you can target to win a prize, and you only need to catch two of any species to qualify. The three major prizes of a cool $5,000 each were for giant trevally, barramundi and king threadfin salmon. The rest of the categories ranged from red emperor, nannygai, coral trout, mackerel and such in blue water to flathead, bream, whiting and fingermark and more in estuaries.Shimano King of Kings
If you managed to come first for any of those and other categories, you would receive a $500 Shimano gift pack. With this style of competition, the big driver behind it is research and sustainability. It's a top family friendly event with a relaxed atmosphere. It almost feels as if it's a catch up with like-minded fishos.Shimano King of Kings
So, what exactly happened during the competition? I believe the biggest battle was in the giant trevally category. It was back and forth between Coastal Chaos and Cast Fishing. Every time you looked at the scoreboard, the lead had changed. In the end it was Coastal Chaos that came away with the win, by only 30mm with a two-fish bag of 2390mm.
Only 30mm between taking home $5,000 or not… now that's a close finish. We were expecting to see a few big barramundi caught during the competition and weren't disappointed, with plenty over 1m and a 127cm beast being the biggest. Team Zerek came out strong and were leading for most of the comp but got rolled towards the last day and Anglerholics took the crown, with a two-fish bag of 2080mm.Shimano King of Kings
The threadfin salmon comp started off as slow as I've ever witnessed. We fished the set of neap tides before the comp and big threadies were everywhere, schooled up hard. Come the comp, the numbers were scarce and spread out. It definitely made them hard to cast at.
The Wasted Seaman team showed all class, getting their two-fish bag for a combined length of 2770mm and took the crown by 50mm. There's a massive list of other species category winners that can be found on the King of Kings website or on the Facebook page.Shimano King of Kings
I'll run through a few of the more popular species:
Fingermark: Pascoe Boys 1640mm
Mangrove jack: Gone Nuts 830mm
Javelin: Pascoe Boys 1300mm
Nannygai: Full Send Mode 1940mm
Emperor: Choppy Seas 1730mm
Mackerel: Choppy Seas 2720mm.
The briefing and presentation were held at Beaches Restaurant at the Rosslyn Bay Marina. It was such a magic spot with Class A views, and I don't think another venue could have been better to catch up and talk fishing. The Argentinian-style parilla they had for dinner and again for lunch at the presentation was so good.
Mario, who cooks the parilla, is well known around these parts for his smooth talking and high-class cooking skills. By the end of the comp, we had caught up with many old friends and made a few new ones too. The committee needs to be given a big thank you for how the competition was run. There was a massive fuss over the juniors and just about every junior angler walked away with a prize.
Talk about looking after the next generation. Our team decided to do a mixture of everything for the comp. We ran around everywhere on the first day trying to put a barra or king in the boat but failed miserably. We went out front for the glorious weather on the Saturday and had fun with jigs.Shimano King of Kings
Teammate Matty had never jigged before and popped his cherry with a nice large-mouth nannygai of around 80cm. The sharks gave us hell for a while before they eased off on the tide change. We ran across an old wonky hole mark and the sounder lit up with what can only be described as a February Christmas tree on the Humminbird Helix 12.
We thought we'd found the motherload of nannygai, but it turned out they were big golden trevally. There were bent rods and aching muscles everywhere. Our two biggest went towards the trevally category where we finished in second place. It wasn't the run we were hoping for but to spend it with great friends during a top competition and good weather is a win regardless.Shimano King of Kings
If you're keen on fishing the comp in February next year, jump onto the King of Kings Facebook page or kingofkings.live to stay up-to-date with all the details.
Catch you next month to talk about big barra that have been going off.